How Papillon is responding to Coronavirus (COVID-19)
Find out more
January 2021: New Year at Sovereign Court
01/01/2021
Sovereign Court Newsletter: January Edition
Firstly we would like to wish you all a happy and healthy New Year! We're still trying to figure out where the year went, but I'm sure like all of us you're happy to see the back of 2020 and looking forward to a much better 2021!
We've had a very busy month here at Sovereign Court over the holiday period, with the highlight being our amazing Christmas day which was filled with fun, laughter and plenty of festive spirit! Whilst it might not have been the day we're used to, our residents still enjoyed a delicious Christmas dinner with all the trimmings, some lovely gifts and plenty of parties organised by our Lifestyle Support Gemma- it's safe to say all our staff really went above and beyond to make the best of the situation- we couldn't be more proud and thankful.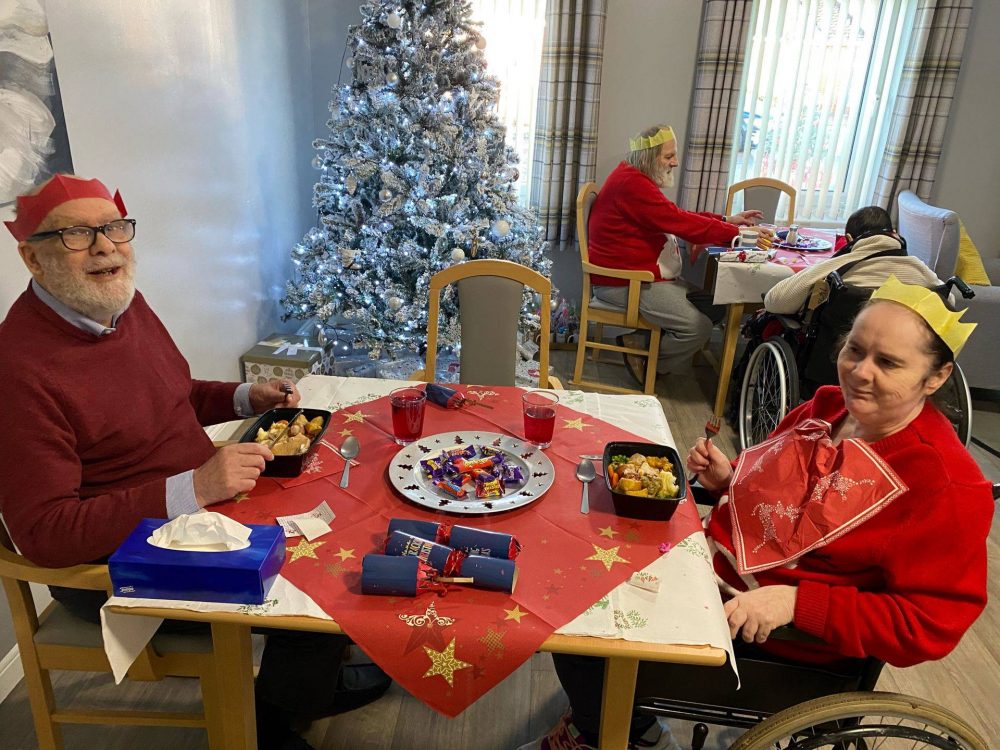 Coming Up This Month
We have lots of exciting stuff happening this month including our New Year's Day party to ensure we kick off 2021 with a bang! We also have a pamper day, appreciation day, A Chinese night we are even celebrating Spaghetti day along with lots of other great activities- so keep your eyes peeled for our photo updates on the Mariposa Facebook page.
Our Lifestyle Support Gemma will also be starting her fund raising up again- raising money so we can hopefully get the residents out on day trips out as soon as we can. But whilst we remain on lockdown she also has lots of amazing ideas up her sleeve for indoor activities which we cant wait to share with you!
January Activities & Events
We have some fantastic activities planned for this month, which include: New Year's Day Party Spaghetti Day Chinese night Tea and Biscuit Afternoon National milk Day Appreciation Day Boldly Holly singer "Make your Dream Come True" Day "Ditch New Year's Resolutions" Day Popcorn Day Pie and peas Movie Afternoon "A Room of One's Own" Day Chocolate Cake Day
Thank YOU
We do really appreciate all the support and donations we receive off our families, friends and the local community. We have had been given some incredible festive gifts and would like to send an extra special THANK YOU to the following:
Jo Henderson who has made us a fantastic Bow for our Christmas Tree
Sophies crafts corner for our spectacular winter wreath
Gemma O'Brien for donating Christmas decorations along with Joan Lowdon.
Laura Lowdon for the donation of chocolates and a wreath
Naomi Le Britton for making personalised cups and Christmas sweet jars.
And 11-year-old girl Cleo who is kindly donating a biscuit hamper for our residents to enjoy!
Donald Gilberts Butchers for the delicious turkey
Mark for our incredible gammon and pigs-in-blankets
Stacey & Lindsey for the amazing cakes!
We have also had outstanding support from the local community:
Our local Morrison's who donated chocolates, gin and a brilliant Christmas Tree
Tesco for the delicious food parcels which have been donated for residents and staff
Special Mentions
We like to say congratulations to our Day Shift Carer Paige who has now been promoted to Night Shift Senior Carer - well done, all your hard work has paid off and we wish you all the best!